Mini XP Day Benelux 2011 features 12 of the most popular sessions of the XP Days Benelux 2010 conference.
See you on April 1st in Mechelen.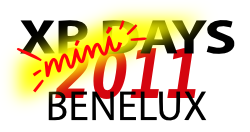 The call for sessions for XP Days Benelux 2011 will be announced at the conference. Start thinking about your great session ideas.
See you on the program of XP Days!